Flower Essences
Case Studies
As a part of the flower essence practitioner certification process I did a number of in-depth case studies. Two of those – which pertain to my work with animals – have been published on the Flower Essence Society website. Here are links to those studies:
Helpful Information
Interested in knowing more about how to use flower essences? See the Workshops section for dates and times of my workshops.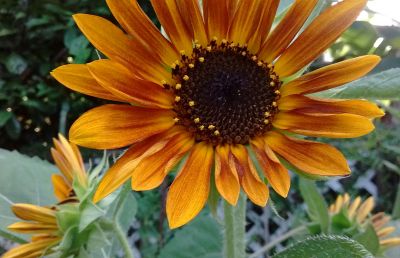 What are flower essences?
Flower essences are another form of energy used in the healing process. They are a liquid made using the energy of the flower at its prime, captured in water and preserved/stabilized with a small amount of brandy or other alcohol or other fixative. Each flower and the essence remedy made from it energetically addresses a particular emotional issue or range of issues.
As an example: the sunflower flower essence, representing "unique individuality" and a "sun-radiant personality" is often used to work with issues of self-esteem and self-expression.
The energy of the flowers is very gentle yet has a specific and direct affect on the individual using it. Flower essences are an excellent compliment to other energy therapies or as a remedy all their own.
I have been certified by the Flower Essence Society as a flower essence practitioner and primarily use their essences in my work, though I am sometimes guided to use other essences.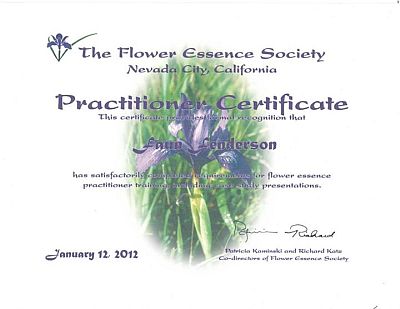 SERVICES
I often recommend flower essences to clients as a result of animal communication sessions, Akashic Records consultations or NPMDT energy sessions, but also schedule stand alone flower essence therapy sessions. A flower essence therapy session includes a detailed interview followed by recommendation of flower essence remedies (which you can purchase from me if you choose) and their usage. Follow-up sessions are recommended.
TO SCHEDULE A SESSION OR PURCHASE FLOWER ESSENCES:
First, pay for the service or flower essence remedy with Paypal – or Venmo or mail a check
Second, send an email to me at faun@heartscommunicate.com to schedule your appointment indicating your preferred method of payment
Pay for Services here
Please email me at faun@heartscommunicate.com with any questions you may have about flower essence therapy or to schedule a consultation.
Disclaimer: Faun Fenderson is not a physician and does not diagnose or treat physical or mental illness. When there are serious illnesses, injuries, or mental/emotional problems, a physician of your choice should be consulted. Flower essence therapy is not a substitute for medical treatment.